After a nationwide search, we are proud to announce the hiring of Adrea Turner as director of Transportation for America, the signature transportation initiative of Smart Growth America.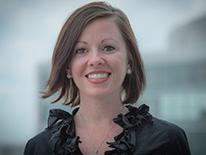 Turner comes to T4America from the District Department of Transportation, where she served as the chief of staff under Director Leif Dormsjo in the diverse and growing city of Washington, DC. In that role she managed day-to-day and strategic operations of the 900-person department, a $600 million annual budget and a portfolio of highways, local streets, traffic signals, public space, parking assets and a growing city-owned public transportation system that includes bus, bikeshare, and streetcar programs.
Prior to her time at DDOT, Turner held senior positions at the Pew Charitable Trusts and in Maryland Governor Martin O'Malley's administration, including time at the Maryland Department of Transportation where she focused on multimodal transportation solutions and transit-oriented development.
"Adrea has a unique depth of experience at the state and local level as well as an understanding how decisions at the federal level can affect people's lives," said Geoff Anderson, President and CEO of Smart Growth America. "Her expertise will help T4America continue to improve lives and communities through smart, locally-driven transportation investments.
"I am honored to join the T4America team and build on its track record for championing smart policy choices and targeted investment in infrastructure across the country," said Turner. "Preserving and modernizing our aging infrastructure is a critical priority that transcends political and geographic divides. I'm eager to get started to ensure our transportation system is safer, stronger, healthier and more accessible to every community."
Turner will replace James Corless, T4America's first director since shortly after its launch in 2008. His work has helped T4America become a leading voice for smarter transportation investments at the federal, state and local levels.
###
Transportation for America is an alliance of elected, business and civic leaders from communities across the country, united to ensure that states and the federal government step up to invest in smart, homegrown, locally-driven transportation solutions — because these are the investments that hold the key to our future economic prosperity.
FOR IMMEDIATE RELEASE
February 28, 2016
Steve Davis
Director of Communications
steve.davis@t4america.org
202-971-3902